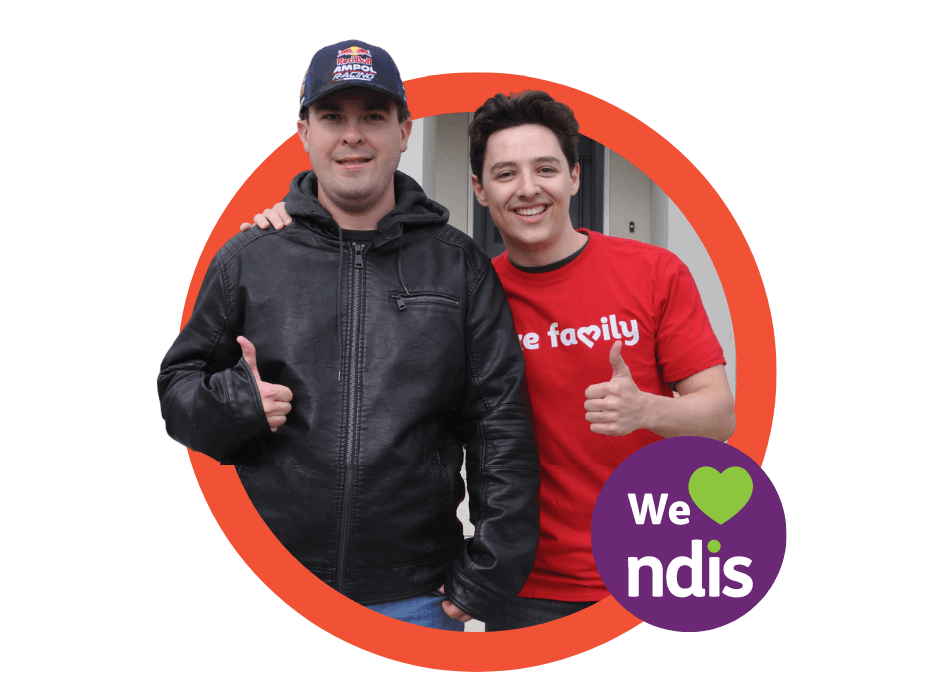 Gain independence, participate in your community and enjoy life with Like Family's NDIS disability and aged care support services.
While other providers cover your basic medical needs, our support services are all about fun, self-improvement, and building lasting relationships.
Ready to get started?
We call our support workers "Social Carers" because we focus on social support and community participation. Here are the types of Activities they can help you with:
Arts & crafts
Have an arts and crafts project you want to try? Our support workers can set up and participate in a wide range of creative activities that allow you to have fun and express yourself however you want.
Household tasks
Sometimes you just need an extra helping hand around the house, and our support workers can handle anything you need them to do. Laundry, meal prep, gardening, cleaning - you name it. Our support workers can provide the exact amount of assistance you want, helping where it counts while leaving room for you to exercise and build your independence.
Health & wellbeing
While our support services are strictly non-medical, our support workers can still help members manage their general health and wellbeing. Whether it's working towards a healthier diet, support during exercise, or simply taking some time to meditate in the backyard, our support workers can help you work towards your goals.
Meal prep & groceries
Need a hand with the grocery shopping or preparing meals? Our support workers can accompany you to the supermarket, help you prepare meals, and ensure that you pick up skills you can work on and improve long after they've said goodbye for the day.
Skills training
Learning and self-development are crucial activities in any lifestyle, and our support services cover this area for our members. Our support workers can help facilitate and guide skills training for members, enabling them to reach their goals while having fun in the process.
Event buddy
Go to the events you want with a trustworthy companion by your side every step of the way. With Like Family, it's easy to find a support worker who's eager to tag along with you to whatever event you have in mind.
Outdoor adventures
Our support services also cover outdoor activities ranging from simple bush walks to full-fledged weekend camping trips. No matter what kind of adventure you have in mind, our support workers are more than happy to help you make it happen.
Transportation
Need a lift to an appointment? Or to the movies? Many of our Social Carers would be happy to give you a ride. We make sure they have a valid driver's licence, proof of vehicle registration and an insured car before providing transport assistance on our platform.
Online support
Even though lockdowns are over, we want to ensure our community can still access support in a safe way. That's why we're continuing to offer video and phone bookings. You can use online bookings to get help with homework, play games, exercise, or just have a casual chat.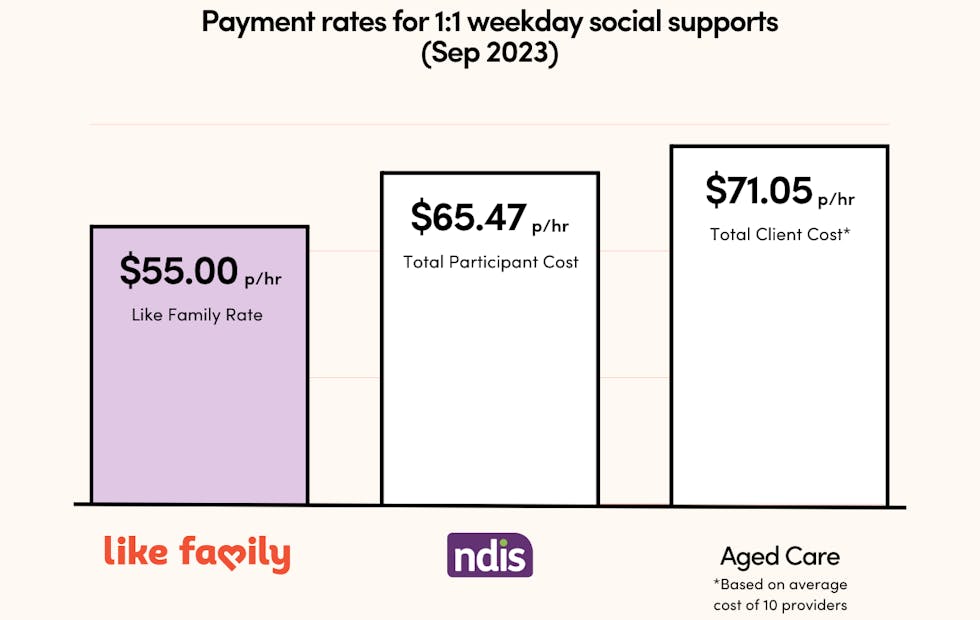 Our 1:1 support services start at $55 per hour, which is below industry rates. We also offer group bookings (with one or two other Members), overnight care, and online video bookings.
Whether you're an NDIS participant, have an Aged Care package or are paying out of pocket, we've made sure our services are affordable regardless of your funding.

View our pricing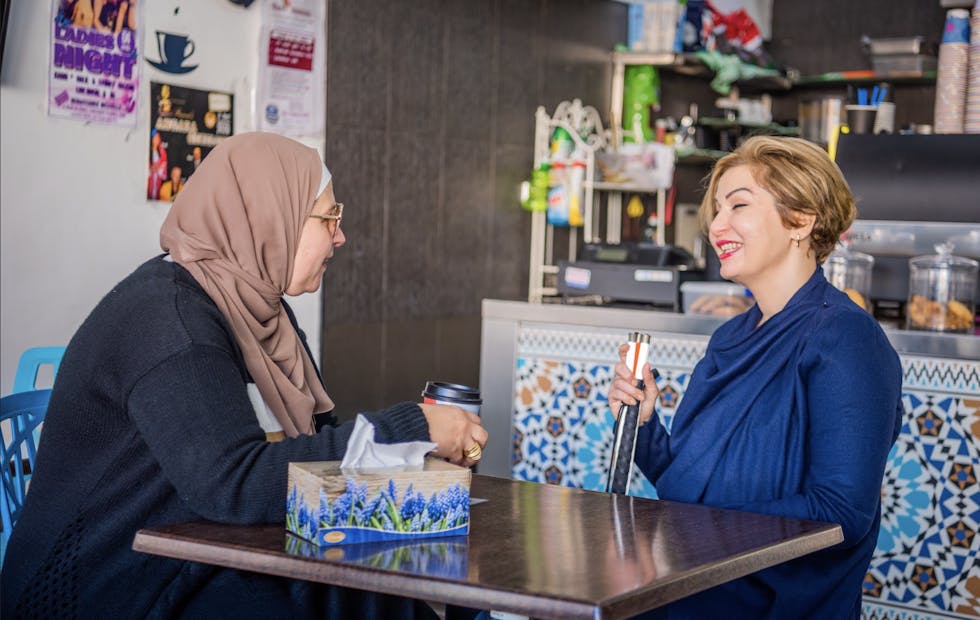 Our support workers are like your mentor, big brother or sister. They're like family.
They go through a comprehensive vetting process, including 2+ reference checks and a group induction. We only approve applicants we'd want looking after our own families.
Find the right support worker for your needs in three easy steps:

Post an Activity
This is like a job ad. Tell Social Carers what you would like to do, and at what day & time.

Message a Carer
You can also search for and contact any Social Carers who match your interests, needs, location and more.

Request a Meet and Greet
This is like a job interview to check if a Social Carer will be a good match. You can arrange up to 5 free Meet and Greets, which a Carer will be paid for.
Frequently asked questions
What type of services can Like Family help with?
Our support workers can help you with a range of non-medical Activities to build your independence, participate in the community and have fun. These include help with household tasks, meal preparation, arts & craft, skills development, transportation, and a buddy for social events. Whether you need a hand with the groceries or a hiking buddy, Like Family is here to help!
Are there any services Like Family can't help with?
Our support workers cannot help you with Activities that involve medical or personal care. This includes treating wounds, administering medication, or showering. They also cannot perform professional services, like giving legal or financial advice.Learn more.
Does the price change depending on the Activity I choose?
We want our services to be simple and affordable. That's why we charge the same flat hourly rate regardless of what type of support you need. We also don't charge subscription or credit card fees.View our pricing.
What's the minimum booking length?
Face-to-face bookings must be at least one hour long. You can arrange a minimum of 30 minute bookings for video and phone calls.
Where is Like Family located?
We're based in Sydney but you can access our support services in many parts of New South Wales, Victoria and Queensland.
I'd like to join Like Family. How can I get started?
Fantastic! First, you'll need to sign up as a Member here. Once you've created an account, post an Activity (job ad) describing what type of support you're looking for, when you need support, and how often. Social Carers will then apply to your Activity. You can also search Social Carers in your local area and contact those who you think would be a good fit!