Once a year around 1 July, the NDIS releases the new Pricing Arrangements and Price Limits (previously called the Price Guide). This helps disability service providers, such as Like Family, know how much they can charge for their services, as well as informing NDIS participants how they can use their funding.
It's vital this document is reviewed regularly to ensure the NDIS remains affordable and meets participants needs.
If you've checked out the most recent Pricing Arrangements and Price Limits, you'll notice it's both long and complicated. Don't worry — we'll explain what it's all about in this article.
What is the NDIS Pricing Arrangements and Price Limits?
The NDIS uses 2 key documents to outline the costs of NDIS supports:
Pricing Arrangements and Price Limits (previously called the Price Guide) - this provides information to providers, participants and other stakeholders on how and when to claim for supports and services.
Support Catalogue - this outlines the actual price limits and line item numbers used to claim supports and services.
Key NDIS terms you should know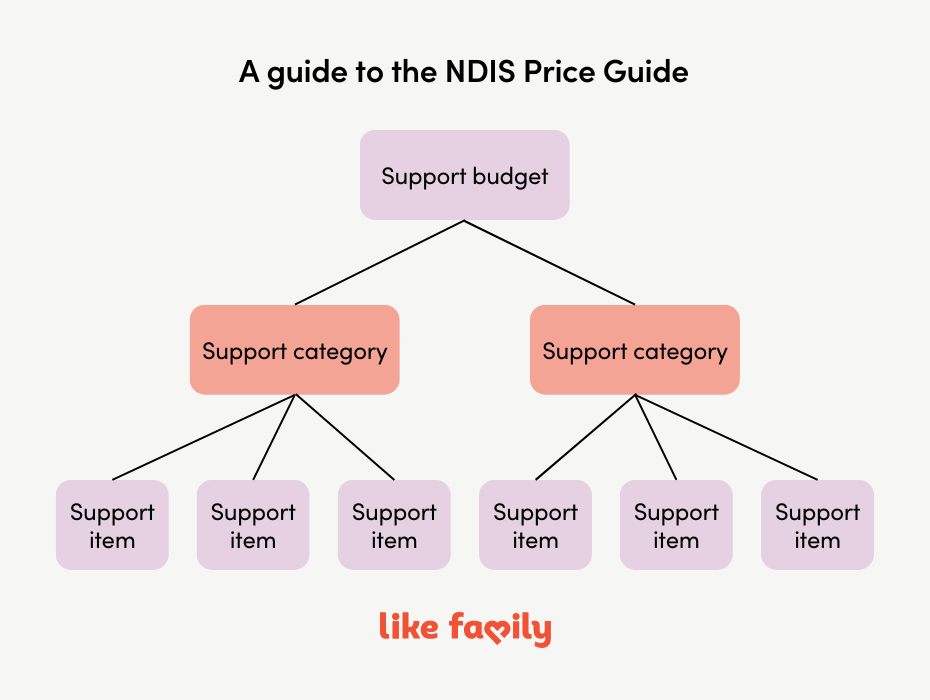 If this is your first time reading an NDIS Price Guide, there are a few important terms you need to know:
Support budgets
There are 3 types of support budgets under the NDIS:
Core Supports - this is the most flexible budget, and can be used to help with everyday activities and any other basic supports that are essential for a high quality of life.
Capacity Building Supports - this budget is about developing new skills and achieving greater independence.
Capital Supports - this is for more extensive supports that help you increase independence, like home modifications or assistive technology.
Support categories
There are 15 support categories that fall under one of the support budgets listed above. These categories align with a specific outcome that you may want to achieve with your NDIS funding, like improving your health and wellbeing.
Support items
Within each support category, you'll find a series of line items. This is a code that indicates which of an NDIS participant's support category budgets should be used to pay for a service. Some supports can be covered by more than one line item (like social and community supports).

Price limits
This is the maximum price an NDIS provider can charge for a particular service (note: not all supports have a price limit). You may notice that some line items have multiple amounts, depending on the participant's location, the day, and the intensity of support. For example, assistance with self-care activities has a higher price limit on Sundays as support workers are paid more for weekend support.
Recent changes to the NDIS Price Guide
The NDIS announces pricing updates from time to time. For instance, several changes have been implemented to address participant safety and wellbeing amidst the COVID-19 pandemic. Here are the most recent changes...
July 2023 changes
The NDIS Pricing Arrangements and Price Limits for 2023-24 were released on 16 June 2023. Here are the main takeaways:
prices for supports delivered by disability support workers will increase by 5.3% from 1 July 2023. This is in line with the Fair Work Commission's decision to increase award wages, the extension of temporary loading, the inclusion of paid family and domestic violence leave and the Superannuation Guarantee Charge increase.
the price for supports delivered by Level 1 Support Coordinators will also be increased by 5.3%
there will be no adjustment to price limits for Therapy Supports, Support Co-ordinators (Category 2 & 3) and Plan Managers
the price limit for Other Supports will be increased by 4.36% from 1 July 2023
You can learn more about the NDIS price update here.
If you're an NDIS participant and are concerned about any upcoming price limit changes, don't worry — the NDIA automatically increases all NDIS plan budgets in July to accommodate these. However, you should check if your NDIS provider makes any changes to their pricing to ensure you're still getting value for money.
How you can use your NDIS funding with Like Family
Like Family is an NDIS registered provider specialising in social and community support. There are 5 support categories that you can use to access our services:
Core Supports
Assistance with Daily Life
Helps participants to live as independently as possible via assistance with personal daily tasks. This could include help with household tasks, gardening, and meal preperation.
Assistance with Social and Community Participation
Helps participants to get involved in social and community activities. This funding typically covers the cost of a support worker to accompany you to an activity (including transportation), but not course fees or ticket prices. Learn more about Social and Community Participation.
Capacity Building Supports
Increased Social and Community Participation
Helps participants to learn new skills and achieve greater independence when participating in the community. This support category is typically less flexible than the Core Support: Assistance with Social and Community category. It may be used for trying a new sport or learning how to use public transport.
Improved Daily Living
Funds support services or training that help participants to develop their skills and capacity for independence and community participation. This may be used to hire a support worker to teach you how to cook or clean.
Improved Health and Wellbeing
Helps participants to be more active, improve their mental wellbeing and practise a healthier lifestyle.
Not an NDIS participant? You can also access our support services using your Aged Care support plan or by paying privately.
Access affordable disability support with Like Family today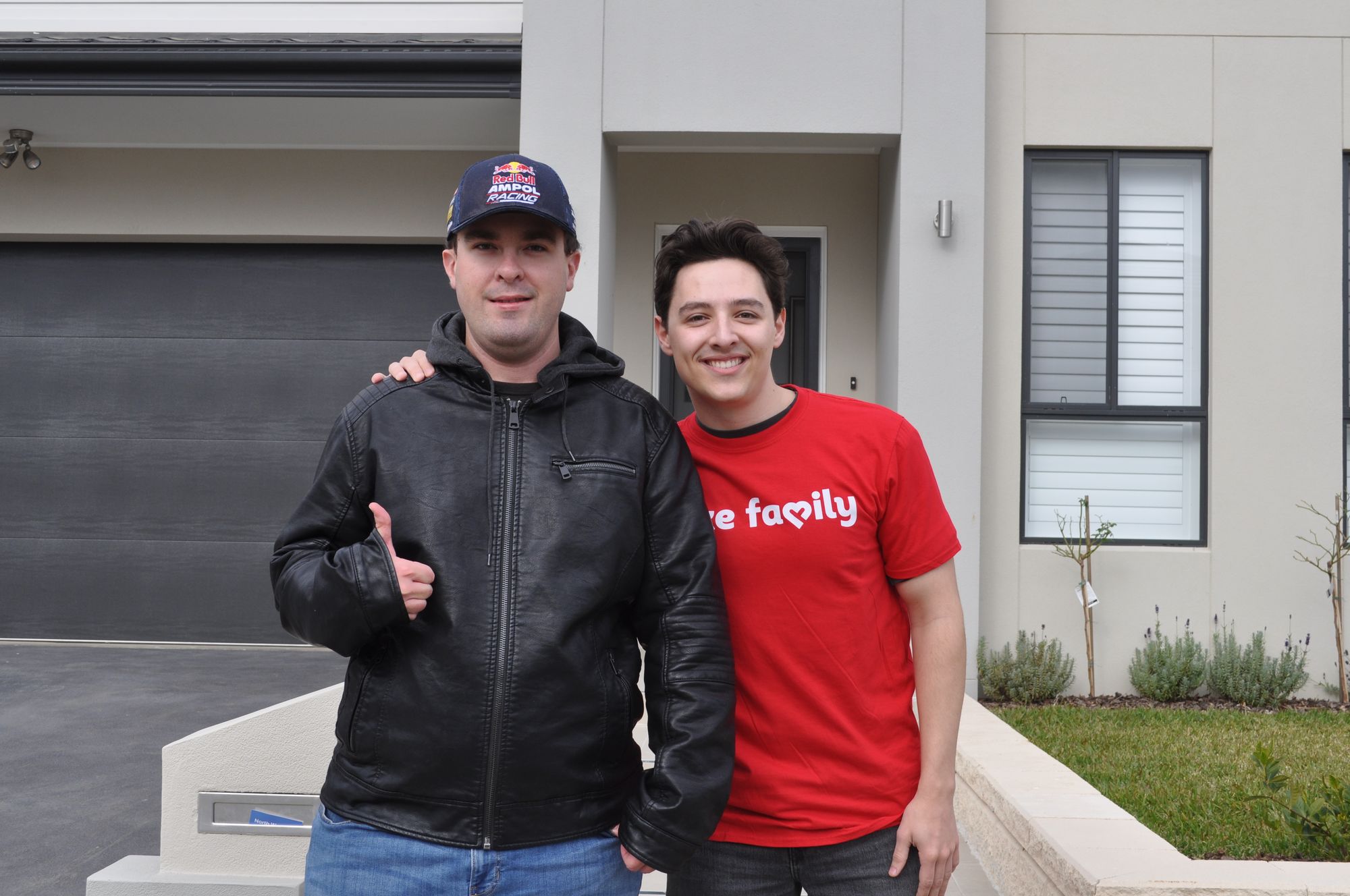 We're committed to making our disability support services simple and affordable, so you can get more support hours out of your budget. This means:
charging the same flat hourly rate regardless of time of day, activity, or support worker
keeping our rates 16% below the NDIS price limit for social and community supports
using fixed rates, so you don't have to negotiate prices with your support worker
we'll also help you connect with compatible support workers for no extra cost!
Head to our pricing page if you'd to learn more about our hourly rates.
If you are unsure how to use your NDIS funding, our team is here to help! Call us on 1800 545 332 and one of our Customer Care team members will assist you.
---
Frequently asked questions
When will the new NDIS price guide come out?
The Pricing Arrangements and Price Limits 2023-24 (previously called the Price Guide) was released in mid June, and comes into effect on 1 July 2023.
Are NDIS prices different depending on my location?
Yes, NDIS prices can vary depending on your location. The NDIS takes into consideration geographical differences and reflects the cost of delivering services across different regions of Australia.
The classification system used to determine geographic location is the Modified Monash Model (MMM) 2019, which considers factors like population size and remoteness to indicate the level of support needed in a particular area. Therefore, the pricing of NDIS supports and services can differ from one region to another.
What is an NDIS sleepover and how does it work?
Sleepover support refers to when a support worker provides care to an NDIS participant overnight. At Like Family, a sleepover booking consists of 8 hours of sleep and 2 hours of active care.
This is a great way to help participants increase their independence and build social skills, while giving their primary carers much needed respite.