Are you thinking about changing your NDIS provider? Whether it's due to evolving needs, concerns about service quality, or simply wanting a fresh approach, switching providers can empower you to find the right disability support for your needs.
We'll look at understanding your service agreement as well as how to create a service booking in the Myplace portal. We'll also cover the topic of changing or ending your service agreement — and highlight the role of the NDIS Quality and Safeguards Commission. Lastly, we'll explain how you can approach any concerns about the quality or safety of the services you receive.
By the end of this blog, you'll have a comprehensive understanding of the process involved in changing your NDIS provider and feel empowered to make informed decisions that best meet your needs.

In which situations can I change my NDIS provider?
Choice and control are fundamental aspects of the NDIS, empowering participants to have a say in the supports and services they receive. So you have a right to change your NDIS provider if you have a change in circumstances or are not happy with your current service provider.
There are many situations where you might consider changing your NDIS service provider, including:
If you have moved house and would prefer a provider located closer to you.
If your goals have changed, and your provider doesn't provide services and supports that meet your circumstances.
If your service provider has changed their service plans and no longer provides services and supports that fit your needs.
If you are unhappy with the way your provider delivers their services.
If you are unhappy with the way the provider communicates with you, including the quality of their customer service.
If your provider has significantly increased the cost of delivering services and supports.
If you find a new service provider with better services and supports (e.g. higher quality support workers)
Before you change provider, you should consider looking at your NDIS service agreement. This will give you information about things like how much notice you have to give your provider before you switch to another, or if you have to pay any cancellation costs.
You do not have to give any reason to your current service provider about why you want to switch to another provider — but doing so can help them understand where they can make improvements.
Once you have decided that you are changing your NDIS provider, you'll need to notify them that you would like to stop receiving services and ask for any final paperwork related to your care.
How do I change my NDIS provider?
If you're having problems with your current provider, it's always worth discussing your concerns with them first. Your provider may be unaware of the issue, but willing to work with you to come up with solutions. For example, if you're unhappy with the limited number of support workers in your local area, your current provider may be able to find new workers who meet your needs.
However, if you've exhausted all other options and have decided to change providers, there are a few steps you'll need to take:
Notify your current provider: Inform your current NDIS provider that you would like to stop receiving services from them, ideally in writing. You are not obligated to provide a reason for the switch.
Request acknowledgment and final paperwork: Ask your current provider to send you an acknowledgment of your request to stop providing services and any final paperwork related to your care.
Cancel any service bookings in the NDIS portal: Keep in mind that your provider may require some time to recover outstanding costs for services they have already provided.
Find a new provider: Find a new NDIS provider that can better meet your needs and goals. You can choose to work with both registered and unregistered providers (if you are self- or plan-managed).
Communicate with the new provider: Contact the new provider to check their availability and discuss the services they offer. Organise a service contract with them.
Remember, you can seek assistance from your local area coordinator, early childhood partner, or support coordinator to guide you through the process. By following these steps, you can successfully change your NDIS provider and access the supports and services that better align with your individual circumstances and goals.
What is the myplace portal and how can I use it?
The myplace portal is an online platform designed for NDIS participants to manage their NDIS plan and funding. You can use it to access a range of self-service features and tools to manage your supports and services.
To use the myplace portal, you need to have a myGov account. If you have a myGov account for other government services such as Centrelink, Medicare, or the Australian Taxation Office, you can use the same account to sign in to the myplace portal. Visit the myGov website for instructions on how to create a myGov account if you don't have one.
Once you have access to the myplace portal, you can perform various tasks. These include viewing your NDIS plan and budget, managing service bookings, submitting and tracking payment requests, and updating your personal and contact information.
How can I choose a new NDIS service provider?
When it comes to choosing a new NDIS service provider, it's important to have the right information to make an informed decision. Here are some steps to help you through the process in a clear and approachable way:
Understand the role of service providers: Service providers are the people or organisations who provide the supports funded by the NDIS. You have the power to choose providers that align with your needs and goals, and they can offer their services at a location and time that works for you.
Learn about the types of providers: There are two types of providers - NDIS-registered providers and unregistered providers. NDIS-registered providers meet strict quality and safety standards set by the NDIS Quality and Safeguards Commission. While you have the flexibility to choose any provider, some supports require using registered providers.
Seek assistance and gather information: It's always helpful to reach out to your Early Childhood Partner, Local Area Coordinator, Support Coordinator, or Recovery Coach. They can provide guidance and information about different providers available in your area.
Utilise resources: The myplace portal is a great resource to search for NDIS-registered providers. You can also refer to the provider lists available for each state and territory on the NDIS website. These resources will help you find providers who offer the supports you need.
Negotiate and agree on supports: Once you've chosen a provider, it's important to contact them to discuss the specific supports they offer. This is a great opportunity to negotiate and agree on the services, costs, responsibilities, and how to handle any issues that may arise.
Consider a service agreement: While it may not be necessary for every support, having a written service agreement is often recommended, especially for Specialist Disability Accommodation. This outlines what you and your provider have agreed, establishing your rights and responsibilities.
Raise concerns and resolve issues: If any concerns or problems come up, don't hesitate to communicate with your provider. Clearly expressing your expectations and referring to your service agreement can help address these issues.
Remember, processes may vary depending on your location. If you're having difficulty finding service providers in your area or need further guidance, reach out to your early childhood partner, local area coordinator or support coordinator for assistance.
How can I find the best NDIS service provider in my area?
To find the best local NDIS service provider for your needs, start by researching the different providers available. You can do this by checking directories of NDIS providers, asking for referrals from friends and family, and searching online. A few other useful tips include:
Look at providers' reviews
Checking NDIS providers' reviews offers several benefits when making a decision. Firstly, reviews provide insights into the quality of service, giving you a better understanding of factors such as professionalism and effectiveness. Secondly, reviews promote transparency and accountability, allowing you to choose providers with positive track records.
To search for NDIS providers' reviews, you can visit platforms like Google Reviews and Trustpilot.com, which host a wide range of consumer reviews. Remember to consider multiple sources and weigh the overall sentiment of the feedback to make an informed decision.
Don't be afraid to ask for help
When it comes to finding NDIS providers, it's important to ask for help if you need it. Navigating the NDIS system can be complex, and seeking assistance can make the process much smoother. Here are a few ways to ask for help in finding NDIS providers:
Local area coordinators (LACs): Reach out to your LAC for guidance and support. They can offer valuable information about local providers and help connect you to suitable options based on your needs and preferences.
Support coordinators: If you have support coordination included in your NDIS plan, your support coordinator can assist you in finding and engaging with providers. They have expertise in the NDIS landscape and can help streamline the process.
Support groups and forums: Consider joining support groups or online forums where you can connect with other NDIS participants and learn from their experiences. These communities are often supportive and willing to share recommendations for providers they have had positive experiences with.
Talk to providers before choosing one
Before choosing an NDIS provider or deciding to change your current one, it's important to talk to the providers directly. This allows you to ask questions about important things like pricing, availability, and safety.
Say hello to your next NDIS provider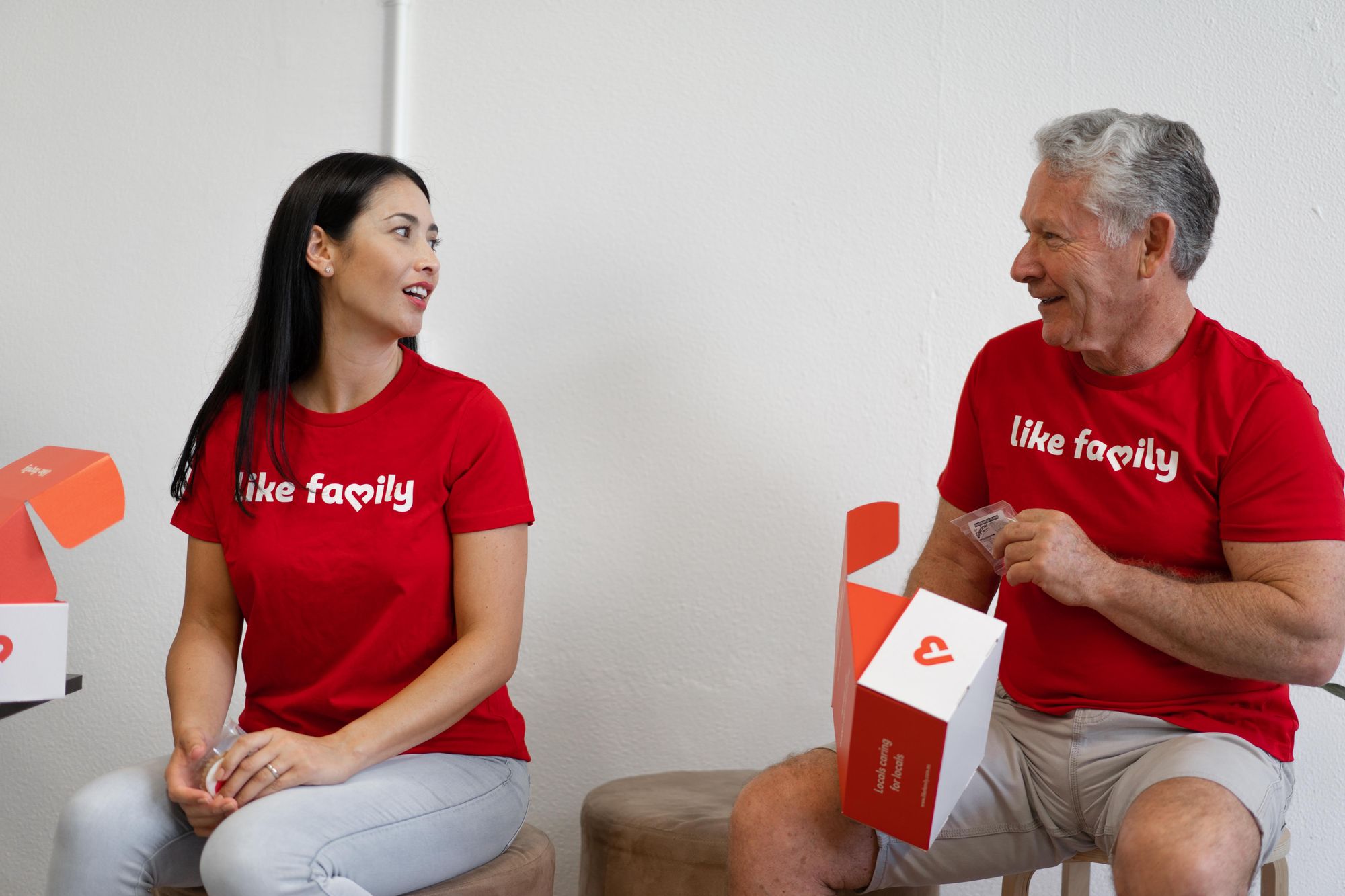 Looking for a reliable NDIS-registered provider? Look no further!
At Like Family, we prioritise quality and safety. Our Social Carers (disability support workers) undergo a rigorous onboarding process that includes a group induction and NDIS Worker Check to ensure they meet our high standards.
In addition to our commitment to quality and safety, we also specialise in social support and offer competitive rates. We believe that everyone should have access to the support they need for a fulfilling and independent lifestyle. Sign up to find support in your local area today!