If you're an NDIS participant looking to get active, eat healthier or improve your mobility, "Improved Health & Wellbeing" may be exactly what you need!
This Capacity Building support is all about helping people like you to live a happier, healthier and more independent life. It's also 1 of the 5 support categories that you can use to access Like Family's disability support services.
In this article, we'll explain what Improved Health & Wellbeing is all about, what activities it can and can't cover, and how to check if it's included in your NDIS plan.
What is Improved Health & Wellbeing under the NDIS?
As the name suggests, Improved Health & Wellbeing funds the disability services or supports you need to boost your physical and mental health. For some people, this may involve learning to prepare healthier meals. For others, it may mean working with an NDIS-registered exercise physiologist to increase mobility and flexibility.
As this is a Capacity Building support, it's important that whatever supports you choose for Improved Health & Wellbeing help you achieve long-term goals and greater independence.
What are some examples of Improved Health & Wellbeing supports?
How you choose to use your Improved Health & Wellbeing funding will depend on what is considered reasonable and necessary to support your goals. Here are some examples!
A consultation with a dietitian. If developing a healthier diet is one of your goals, an NDIS-registered dietitian can help you put together an appropriate, nutritional meal plan. Note: you can only access funding for a dietitian if the supports you need are directly related to your disability.
Personal training sessions. NDIS-registered personal trainers can help improve your mobility and overall health through sports and recreational activities that best suit your needs. This could take place at home, at a local gym, or even outdoors.
A session with an exercise physiologist. These are allied health professionals who typically focus on helping people with chronic conditions and injuries. They may create personalised exercise programs to build your capacity to do daily activities and move about independently.
A helping hand from a support worker. NDIS support workers can help you with a range of health and wellbeing activities, like assistance with meal preparation or accessing a gym. Note: you may use funding from a different NDIS support category to pay for a support worker!
What does this support category not cover?
There are a few things that you cannot use your Improved Health & Wellbeing NDIS funding for. These are typically day-to-day expenses that aren't related to your disability, don't provide value for money, or will not contribute towards your goals.
Food. You can use your funding to pay for a consultation with a dietitian, but not for the healthy ingredients themselves! That's because food is seen as an everyday expense.
Gym memberships. This is considered an everyday cost that would have to paid for regardless of whether you have a disability or not. However, you may be able to use your funding for an NDIS personal trainer.
Private swimming lessons. The NDIS states that you cannot use your funding for private swimming lessons as it's not considered value for money and could be provided by your informal supports.
If you have any questions about your NDIS plan and what it can be used for, talk to your Support Coordinator or Local Area Coordinator.
How can I check if Improved Health & Wellbeing is covered by my NDIS plan?
Not sure if Improved Health & Wellbeing is included in your plan?
Just head to the myplace portal and search for 'Improved Health & Wellbeing' in your plan, or talk to your NDIS plan manager (if you have one).
Improve your health and wellbeing with Like Family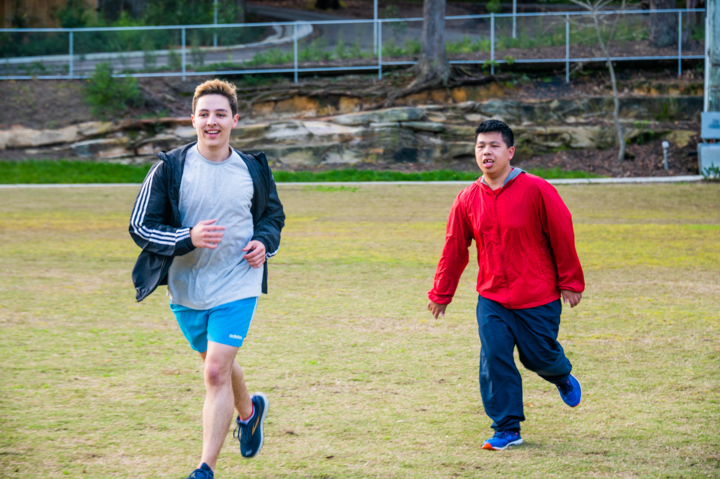 Thinking about hiring a support worker to help you get active and boost your wellbeing? We can help!
Like Family is an NDIS registered provider specialising in social and community support. We have a network of over 3,000 active, NDIS-verified support workers who are passionate about empowering people of all abilities to live a healthy, happy life. They may help you to learn a new sport, prepare healthy meals, or get you to and from the gym.
You can use your Improved Health & Wellbeing funding to access our support services, in addition to 4 other NDIS support categories. Find out how you can use your funding with Like Family.
If you'd like to learn more, head to our website or contact our friendly Customer Care team at hello@likefamily.com.au today!