Saturday 3 December 2022 marks International Day of People with Disability (also known as IDPWD). It's a United Nations-sanctioned day that aims to promote the rights and well-being of people with disability.
There are several IDPWD events happening across the east coast of Australia, including movie screenings, art exhibitions and free morning teas. Find an event in your local area below!
NSW
2 December. Our wonderful partners The A List are hosting a free morning tea to celebrate IDPWD! Come along to Lurnea Community Hub near Liverpool and enjoy coffee, activities, treats, and a chance to play on the playground. People with disability, their loved ones and carers are all encouraged to attend! Reserve your spot.
2 December. Join Cumberland City Council's Festival of Ability - Come and Try day at Granville. The accessible event will include music workshops, Zumba, an arts & craft workshop, free access to the Artspace exhibition "Out of Order", and much more.
3 December. Sydney FC Foundation is partnering with I'MPossible to hold an afternoon of fun and football at Allianz Stadium. Spaces are limited, so make sure you register soon!
3 December. Ebenezer Mission is hosting an International Day of People with Disability event at the Rhodes Foreshore Amphitheatre. Come down at 11am and enjoy music, an art exhibition, and even a coffee making challenge.
3 December. If you're from Western Sydney, don't miss out on Accessibility FunFest! Held at Western Sydney Parklands, there will be games, face painting, a fashion parade, and free lunch and dessert.
3 December. Tweed Shire Council is holding an International Day of People with Disability fair at Kingscliff Community Hall. The fair starts at 9am and will include a photo booth, face painting, dance workshops and movement classes.
Queensland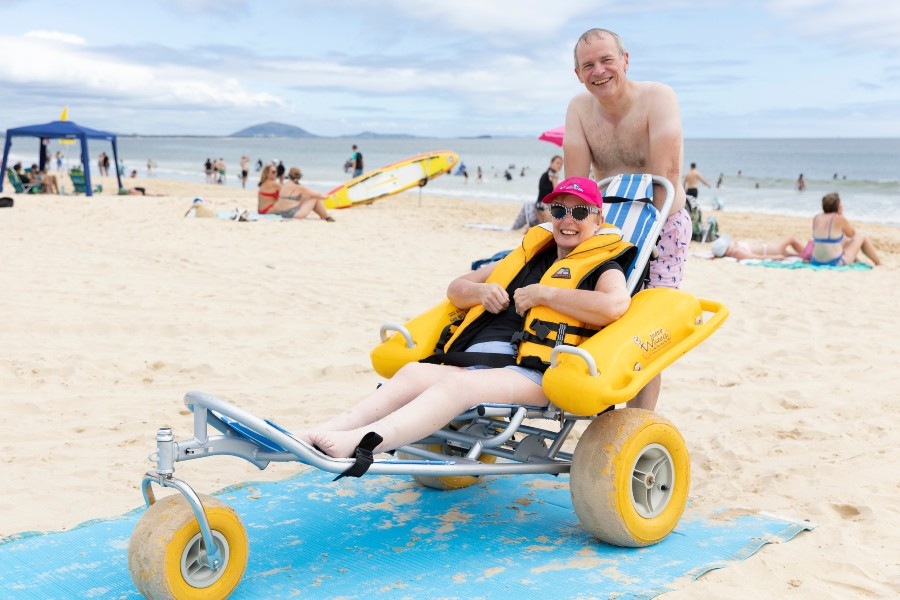 2 December. Grab your swimmers and head on down to Mooloolaba Main Beach for All Access Day. The special IDPWD event will feature live music and activities for people of all ages and abilities to enjoy. Beach matting and wheelchairs will be available!
3 December. Carers Queensland has partnered with the CQ Capras to create a fun morning of activities for children of all abilities. You'll leave with a free pack of CQ Capras goodies, including a t-shirt, football and cap.
3 December. Carers Queensland is hosting another IDPWD event on the same day at Slacks Creek. This one will feature guests speakers Tim Lachlan (wheelchair motocross star) and Shane Falconer (personal trainer with a vision impairment) as well as local choir Ikuna Voices. You can RSVP here.
Victoria
1 December. Catch a screening of Defiant Lives as part of Glen Eira Council's IDPWD celebrations. The event will be held at Classic Cinema Elsternwick at 6pm and entry is free! Bookings are required.
1 December. Hear from a panel of leading disability advocates at TOGETHER, a free International Day of People with Disability event at Rydges Geelong. The panel will be hosted by author Jamila Rizvi and feature Eliza Hull, Rhiannon Tracey, Noah Callan and Eamon Wheatland.
4 December. Laugh along with some of Australia's funniest disabled comedians at Grinwest! Come along to the Bowery in St Albans and enjoy sets from Oliver Hunter, Grant Cater, Thomas Banks, and more.
Attend an IDPWD event with a support worker
If you would like to attend one of the above events with a buddy, Like Family is here to help. We're an NDIS registered provider specialising in social care and community participation.
Our disability support workers can accompany you to a range of social events, provide transport assistance, and help with other activities like exercise and household chores. We also offer group bookings if you'd like to attend events with 1 or 2 other friends.
Whether you're in Sydney, Brisbane or Melbourne, join Like Family today to find the right support worker for your needs.