A recent report by the ABC revealed that Australia's disability support workforce will need to double over the next three years in order to keep up with demand. However, not enough people are joining the sector, meaning care recipients are unable to access the support they need. It can be stressful working in a sector with excessive demand, high pressure and soaring workloads, so how can you find a balance that works for you?
If you're a support worker who loves your work but are feeling perhaps a little burnt out, have you ever considered being your own boss?
There are many advantages to becoming your own boss:
Flexibility
All Social Carers have flexible hours to suit their schedule. You can work full-time, part-time, on weekends, or selective hours to complement other commitments such as studying.
Keeping local
Stuck in congestion on the roads again? Squished up against strangers on a packed train? You can avoid it all completely with the ability to choose missions in your local area, saving you time and effort.
Independence
Becoming a Social Carer with Like Family means you essentially can be your own boss, giving you the choice and control to make your own decisions about the kind of work that you do, as well as choosing who you work with.
Good hourly pay rate
All Social Carers are paid a competitive and fair hourly rate, with higher pay for weekend and group bookings. View our Social Carer pay rates.
Have fun!
By removing the pressures and demands that managers can bring, you have the freedom to focus on doing what you love, and have fun while you're at it! Like Family matches our Social Carers with Members who have similar interests. For example, if you're a film buff, there's a good chance you'll be paired with other film buffs – so you could get paid for going to movies with your Member. Does this sound like a dream job scenario to you?
It's important to note that you don't have to leave your job to try working independently. Some support workers have signed up with Like Family to supplement their existing full-time or part-time income.
Become a Like Family Social Carer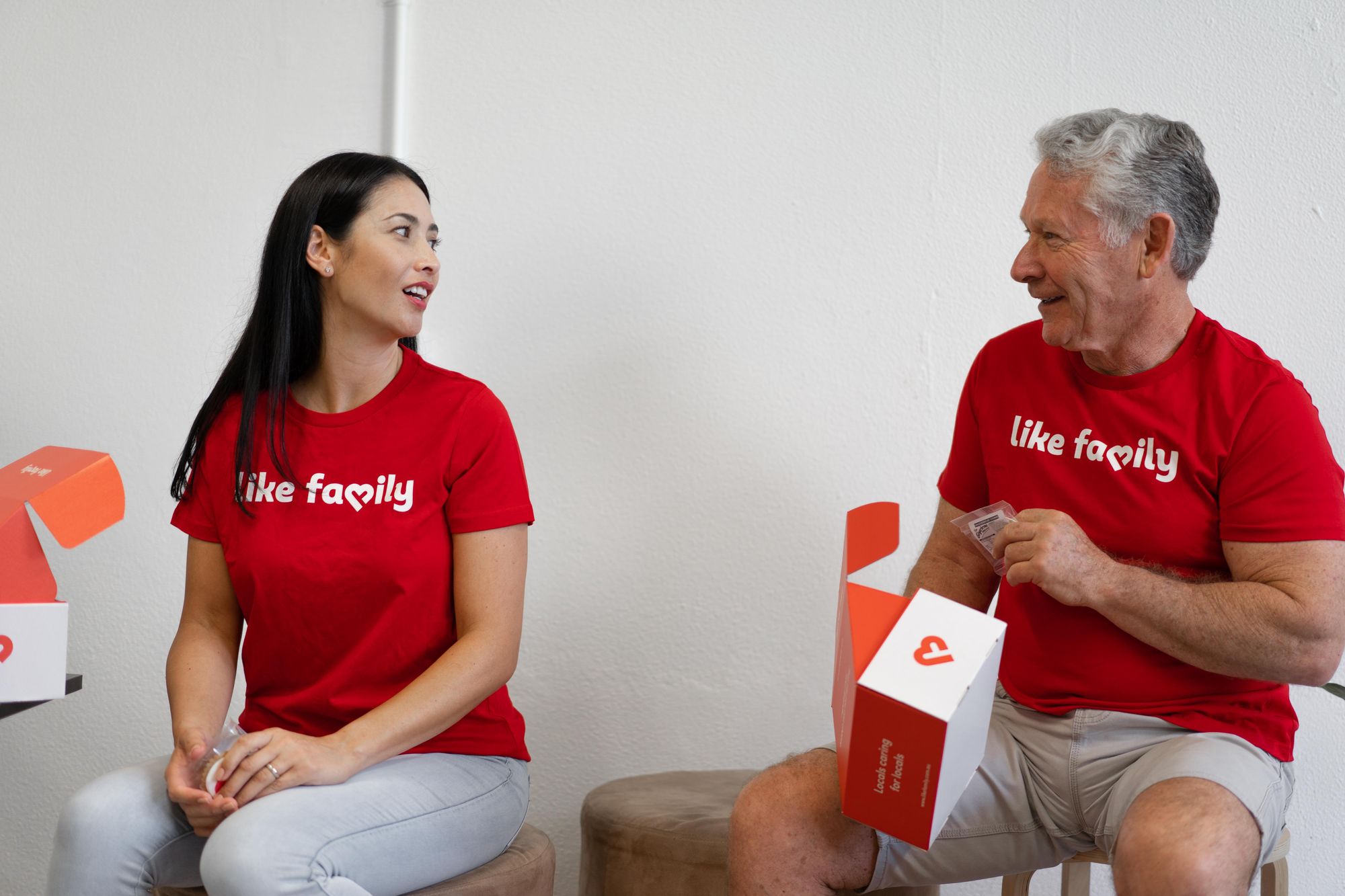 We are always looking for new Social Carers. If you live in New South Wales, Queensland or Victoria, and want to help make the world a better place by being your own boss and contributing to your community – Like Family is for you.
We are on a mission to make a positive social impact in our community by ending social isolation and loneliness, providing assistance to those who need support due to ageing, illness or disability. Our Social Carers come from all walks of life, skillsets and experiences. Particular experience in the aged care or disability support sector is not necessary, as we bring onboard Social Carers who have a passion for learning new and different skills. There isn't a particular skillset or interest we look for in new Social Carers.
Sign up now to become a Social Carer where you will be matched with Members looking for companionship and support in your local area, who share your interests.