Having a great profile as a support worker (or as we call them, Social Carer) is very important. It will allow you to stand out, connect with the right Members and increase your chances of getting work!
If you've just become a support worker with Like Family (or another disability and aged care provider), here are some tips to on how to write a great profile.
1. Upload a friendly profile picture
The first thing a Member will look at when you create your Social Carer profile is your profile picture. You want to come across as someone who is trustworthy and reliable as well as showing some personality.
What to do
Upload a photo that makes you look approachable, welcoming and friendly
Make sure your whole face can be seen
Showcase something you love. For example, if you love the outdoors, use a picture where you are out in nature
What NOT to do
Avoid dark or poor lighting
Do not choose a photo in which you are wearing sunglasses or swimwear
Don't post a photo of you with other people. Members want to see exactly who they will be working with
2. Write a clear, unique bio
Your support worker bio is the most important part of your profile, as what you choose to write here can determine whether a Member reaches out to you or not. First impressions count!
It should be at least 1 paragraph long, and cover your passions, skills and why you decided to become a Social Carer.
Some other tips to consider:
Write in first person e.g. "I am interested in..."
Use an opening line that immediately conveys who you are e.g. "My name is Max and I'm a 23-year-old uni student with a passion for social care"
Mention any unique skills or achievements
Check your writing for any spelling or grammar mistakes
3. Add any relevant qualifications or experience
Our Members value Social Carers who are trustworthy and reliable. Sharing your qualifications, skills and experience is important for establishing trust from the beginning. If you have experience in disability, aged care or domestic assistance, be sure to mention it!
However, this section should not be limited to your educational qualifications. You may have lived experience of disability, a volunteering role that required strong people skills, or been a primary carer for a loved one.
4. Showcase your hobbies
The last thing you should include in your profile is a list of your hobbies. Make sure you are honest in this section as Members will seek out Social Carers who have similar interests (like a sport-loving Carer to take them to an NRL game).
Be sure to include any interesting hobbies and interests that you have, like surfing, knitting or birdwatching. This will make your profile stand out!
5. Regularly update your availability
While your bio and profile picture won't need to be updated often, your availability section will.
You should aim to update your availability on a weekly basis so Members don't message you when you are unavailable to work. If you are at capacity, please set your profile to unavailable.
Learn how to update your availability
Examples of great profiles
Still not sure what to write? Here are a few profiles of other Social Carers for inspiration!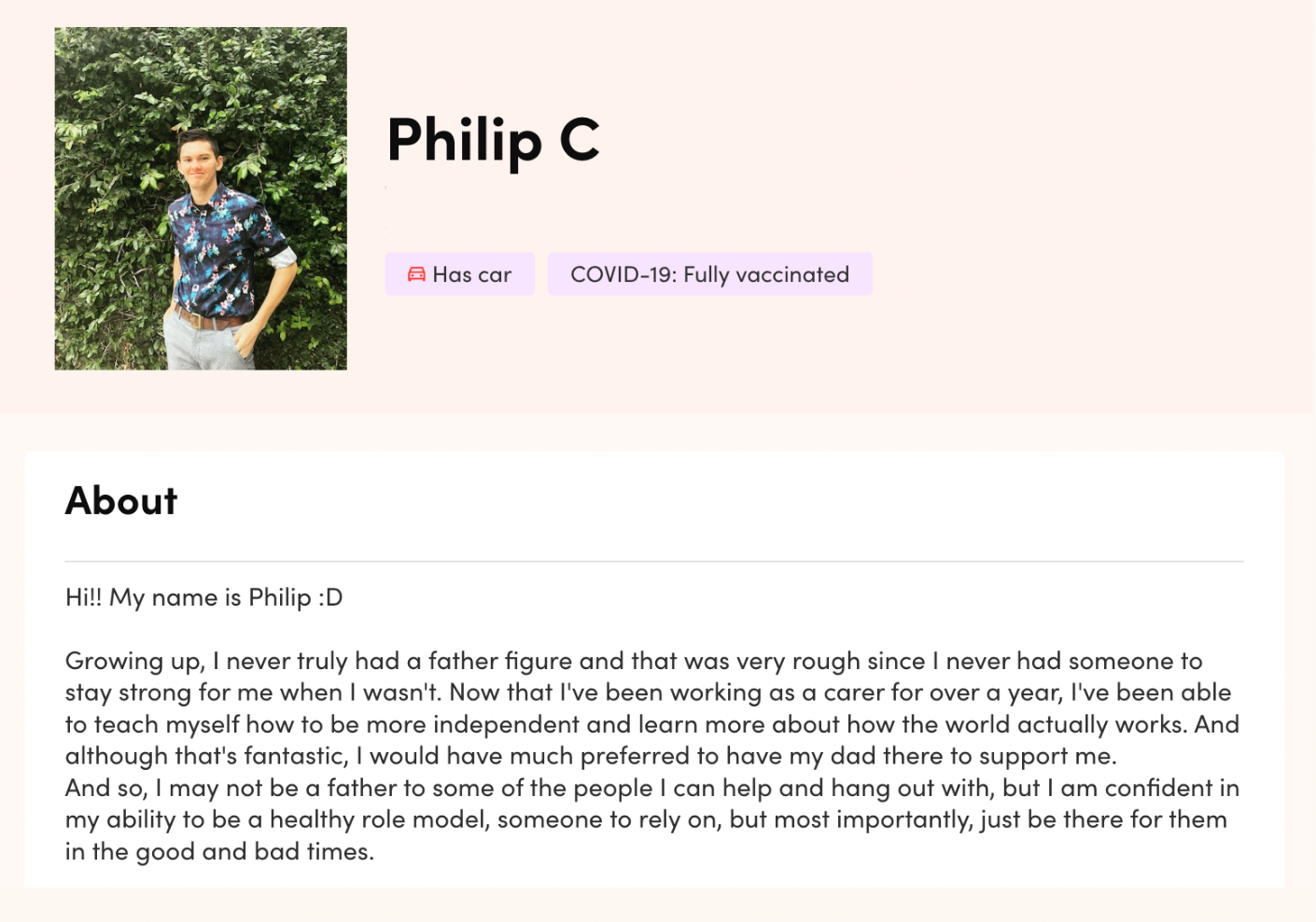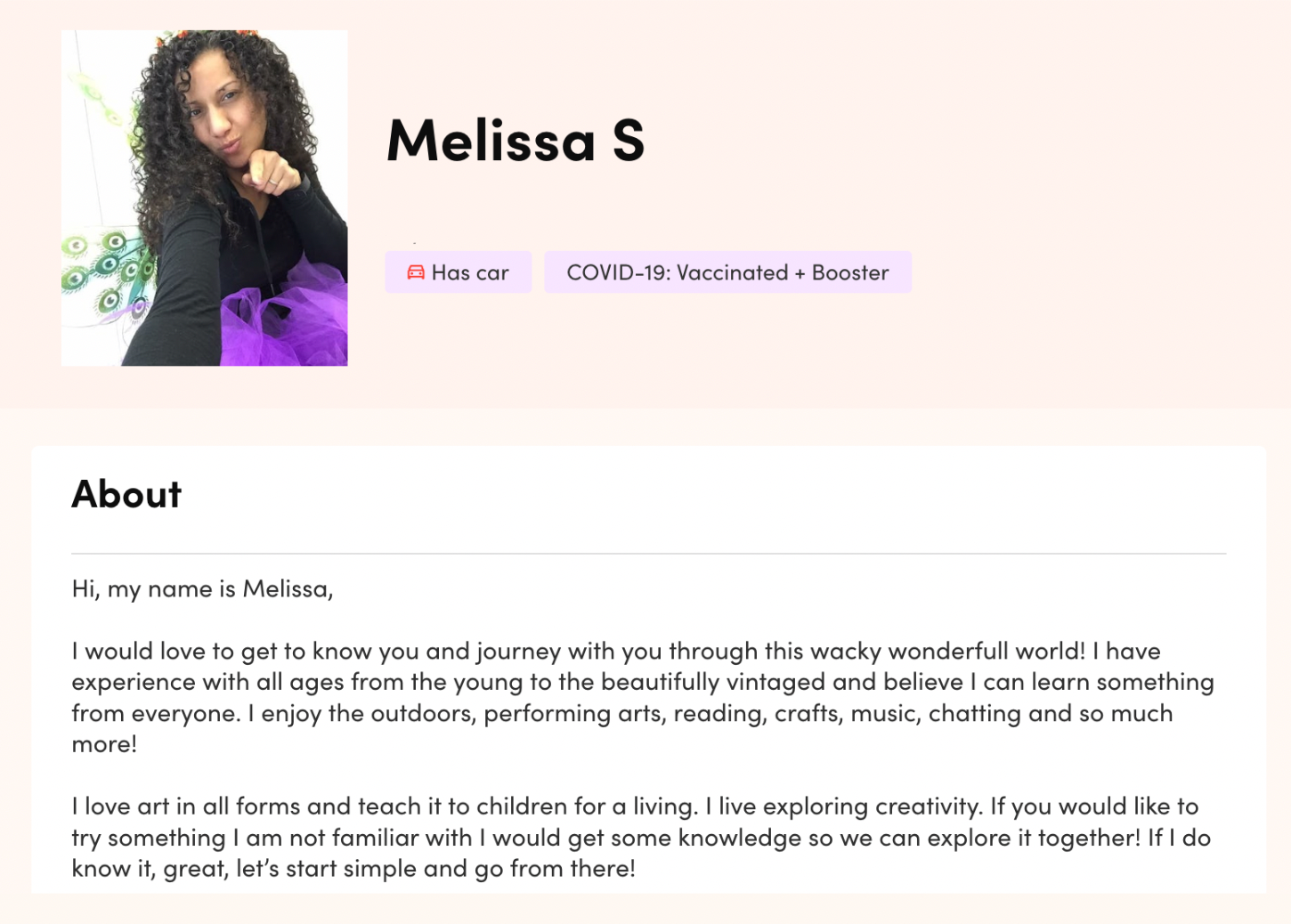 Become a Like Family support worker
Interested in becoming a Social Carer (support worker) with Like Family? If you live on the east coast of Australia and are looking for a rewarding, flexible job - Like Family is for you. Like Family is a Sydney-based startup on a mission to reduce social isolation and build more inclusive communities in Australia.
We offer local jobs with flexible hours to suit your schedule, with a competitive and fair hourly pay rate. Sign up now to become a Social Carer!