Michael and Social Carer Cale recently took a trip together from Sydney to the beautiful Sunshine Coast. It was Michael's first holiday in 8 years!
In his own words, Michael shares a little bit about himself, why he chose the Sunshine Coast as a holiday destination, and what goals he achieved along the way.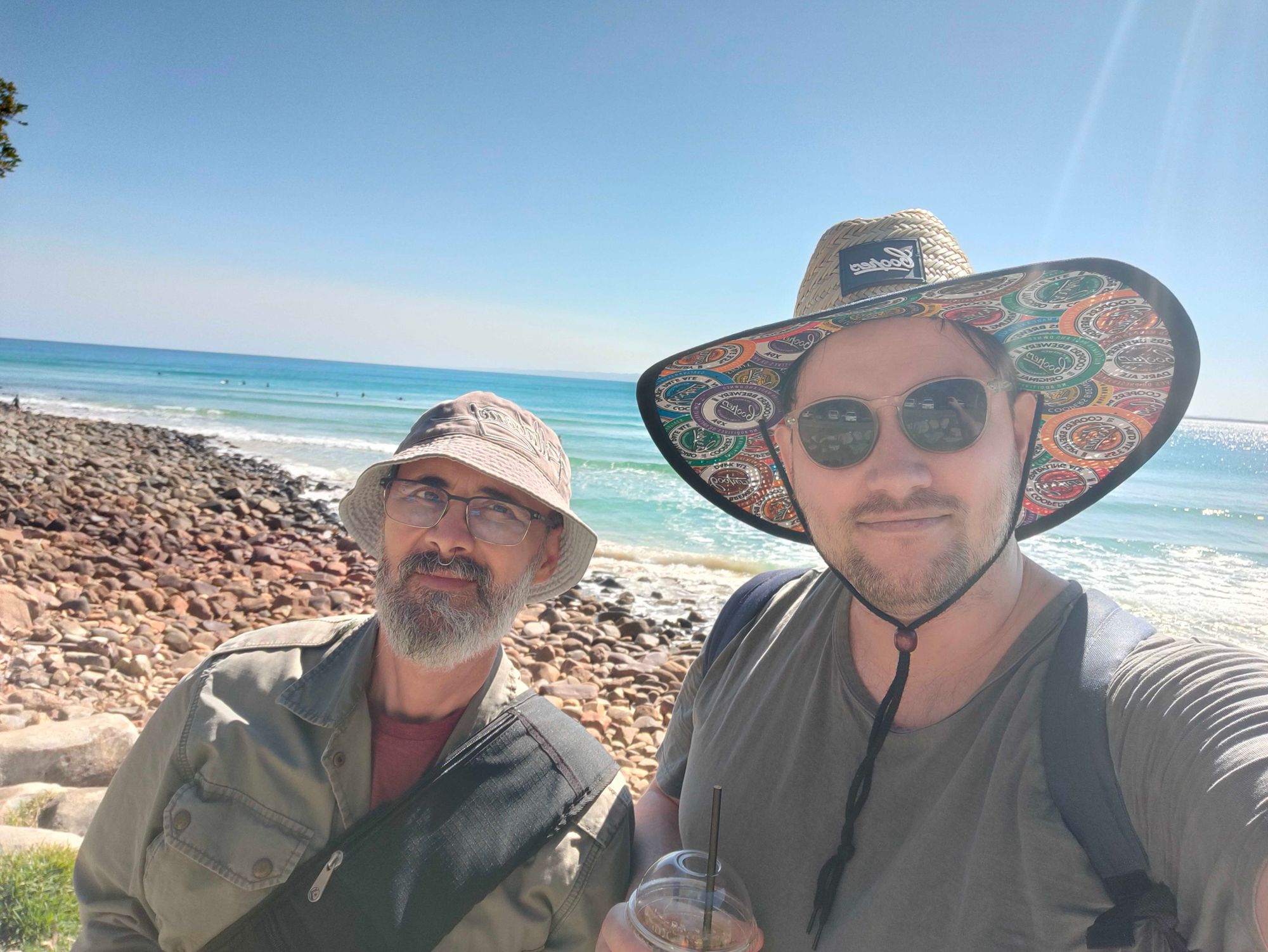 ---
Tell me a little bit about yourself
I have a severe genetic Immune-Deficiency with Comorbid moderate-Autism. I struggle with social interaction, especially when dealing with people I don't know. I have enjoyed perfecting and using 3 foreign languages that I have been learning since university, decades ago. I sometimes watch movies, Netflix and the TV News in the other foreign languages. It's interesting to compare our Aussie news with Italy, France, Spain and Latin America.
Probably a side effect of my autism, as I am overly analytical and get lost in details, and thus simple chores like organising myself can be much more difficult than for other neurotypical people. Though when I relax more, with just 1 person, I can seem normal-ish, though as soon as I get anxious I can go into an anxious or panic state. Therefore I do need someone to guide me on certain tasks that may seem simple, but to me are quite difficult. Especially mentally and emotionally.
Why did you decide to go to the Sunshine Coast?
I hadn't been on a holiday for about 8 years. I had come close to death a few times in the last 12 years due to side effects of Immune-Deficiency, and the isolation of not having any family or friends to help me.
For example I didn't know how to order an online ticket for airfare, or how to scan the airline ticket at the airport, I didn't know how to order an Uber cab, and I didn't even know how to use many smart phone features like GoogleMaps. Things like searching for accomodation with AirBnB or motels online are not possible for me without having someone like an NDIS carer help me. I have become quite a recluse over the last decade, and isolated, and therefore did not how to use many smartphone features, (and sometimes to be honest many internet features or websites).
I wanted to learn how to deal with travelling by plane, and using my smart phone for say looking up bus routes and times, via Google Maps. Thanks to Cale, I can now do these things better, but still not perfectly due to middle age & disability. Although, it was a steep learning curve. Eg: On the day of arrival to Qld, Cale showed me how to order an Uber cab with my Smart phone. The next night at midnight, I needed to go to hospital for an unexpected gall bladder attack. Had I not learnt how to use the Uber app, just the day before with Cale, I would have had no understanding how to get myself to hospital in a foreign Qld town. So that one act of learning how to use the Uber app the day before, pretty much saved me that following midnight.
What goals did you want to achieve with this trip? Did you make any progress towards achieving them?
My goals as a middle-aged man were to try and learn some 21st century skills like using the smart phone, and catching/ordering/booking an airplane using the internet. Things that are easy for some people, but difficult for me, due to a decade of isolation, and therefore not learning from others how to use the internet or my smart phone fully. I recently got both a new computer and iPhone but the reality is that I feel a little uneasy using its many features, without being shown by someone who does know how to use these digital apps.
I need a NDIS carer to often show me things, as I do not have friends or family to help me. Cale from Like Family is a digital native. He understands how to use his smart phone, and organise a trip. Frankly over the last decade, I had no idea how to organise a trip via the internet, and even scan my ticket at the airport! The act of where & how to scan an electronically sent air ticket via an sms, was overwhelming for me. What do I do with the SMS? What if flight details get changed? How do I access the flight details via an app. Things have changed in travel in the last decade, and I was not up-to-date with the new technology.
My NDIS carer, Cale was, and not only did he organise things for me, but he was patient with me, and showed me how to go through various steps of ordering an Uber, and using GoogleMaps beyond its most basic features. We even met a middle-aged lady while at the bus stop at the Sunshine Coast bus terminal who he helped with finding the best bus route for her, and she didn't know she even had GoogleMaps on her phone. So I feel I at least now I know how to not only use a googleMaps, but also some of its many features. So I am more smartphone tech savvy now. Thanks to Cale.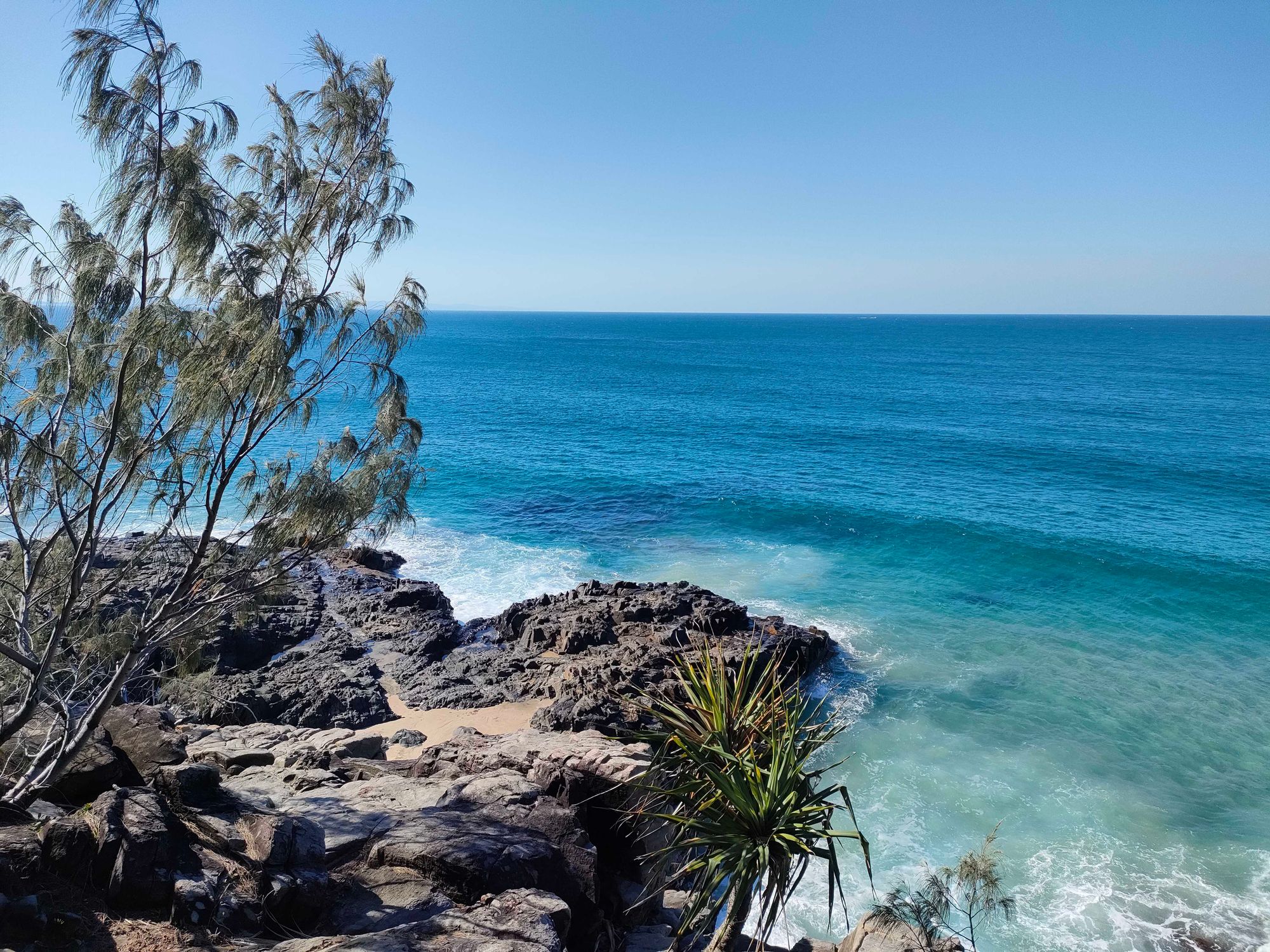 What was your favourite part of the trip?
It was good to have someone to reach out to, up in Qld if I needed help. In a new town that I would have felt lost in, by myself. Someone to call who knew me, and was close by. I like the idea that realistically some disabled people have some capacity to holiday, but need a part-time companion/ carer for certain things like where to get a pensioner concession bus-card, which sounds simple enough, except in reality, it was more complicated. I liked my Saturday bus trip to Noosa with Cale, being able to connect with another human being.
With Immune-Deficiency and autism, it sounds like something that is simple: the act of human companionship: but in actual fact for people on the autistic spectrum having to make fluid conversation takes mind flexibility. Under stress, especially in a new town, many things can cause me to become anxious, this can affect my ability to communicate without anxiety. I simply wouldn't have the ability or flexibility of mind, to handle this trip alone. Also as I didn't have to explain my quirkiness to Cale, as he understood that I have moderate autism, that he allowed me to relax enough, to express myself more freely, and even make an occasional joke, which is something I only do when I feel completely relaxed, as I am constantly worried or anxious about how I come across. Just knowing that I didn't need to justify my idiosyncrasies, meant I could just relax knowing he (my carer) already knew I was a bit quirky in the way I interact. Again my Like Family carer, Cale was patient with me. And he explained how to use my new smartphone more fully. I am not as frightened of using it now.
Is there anything else you'd like to mention?
Some disabled people need some help with organising a holiday and trip. I didn't have the skills to do this by myself. That's the simple truth. I seem normal and able-bodied, but my Disabilities are invisible. Some disabled people who are not young, they do not make friends like young adults do. People in society may tend to not socialise with some disabled people. It's subtle avoidance and it can be done graciously, but in the end it's still avoidance, and reality. I'm sure I am not the only middle-aged disabled person who has been taken advantage of, especially if you don't have close family to keep an eye on you.
So having an organisation like Like Family, allows for human interaction to take place: when in society, realistically that social interaction of going on holiday, or striking up conversation, or having help with how to do/organise some particular situation; it simply would not happen, unless there is access to some sort of chaperone or NDIS carer. I would not have been able to have had this trip, as I simply did not have the skills to do it by myself. But I did have the ability to do it, with a carer's help to guide and help me along the way. I didn't even know that I could access some of my funding, to help me get away for a short-term trip. I was a little lost to be honest. I needed a carer who could organise me, and allow me to also learn along the way.
I am the victim of people sometimes having "fun" at my expense. My Disabilities are invisible, I have no family, I have no friends. Therefore some people think it's harmless fun to take advantage of older disabled people, and younger ones as well, especially if there is no family, to watch over them. I have been in past situations where people take advantage of me, as there is no one to witness the act of "taking advantage", therefore there is no record of the "taking advantage" of a disabled person, who is isolated.
Having an organisation and carers provided by the NDIS, allows those disabled people who are isolated at home, and alone, to have access to the outside community. Not only access, ….. but safe access. This makes a big difference to a disabled person who has experienced people taking advantage of them. Even if disabled people go to the police, the police can be as like many ignorant people in society, even the police will look at you, and not understand you have an invisible disability, such as autism. They may equate Disability was housing commission, or they may equate it with schizophrenia. Then this ignorance is then used to disregard the disabled person's access to "safe" community access.
So unfortunately from personal experience, a disabled person can not even often go to the police to get help. The police will simply not take them seriously. This is very saddening for a disabled person who is isolated. This is where NDIS carers, can provide the extra support to help the disabled person who is victimised.
---
Thanks Michael for sharing your story!
Have you and your Social Carer/Member done something exciting or gone somewhere cool recently? We'd love to hear about it!
Submit a story, photo or video here and we'll share it with our community via social media.