If you're looking for fun indoor activities to do as an adult with a disability, you've come to the right place. Indoor activities are a fantastic way to stay active and connect with others (regardless of the weather outside) and can easily be tailored to meet an individual's needs and preferences.
Indoor activities also offer plenty of mental and physical health benefits to adults with disability. They can help improve socialisation skills, enhance cognitive function, increase coordination and balance, and improve physical strength and flexibility. Plus, you get to have fun and make friends at the same time!
So next time you're stuck inside with nothing to do, here are 10 disability-friendly activities you can try out with a friend or Like Family Social Carer.
Adapted Sports
Looking to break a sweat? Adapted sports such as wheelchair basketball, quad rugby, and adapted bowling are excellent indoor activities for adults with disability to stay active and have fun. Not only do these activities provide physical exercise, but they also offer social interaction and a sense of accomplishment.
Adapted sports allow individuals with disability to participate in competitive or recreational activities while accommodating their different needs. For example, wheelchair basketball is an adaptation of traditional basketball that has been altered to be more accessible for players with limited mobility.
Wheelchair rugby, also known as quad rugby, is another popular indoor activity designed specifically for individuals who use wheelchairs. Adapted bowling is also a great indoor activity for people of all abilities. The lanes are wheelchair-accessible and automated bumpers keep the ball from entering the gutter, allowing everyone to have fun!
Arts & Crafts
If you're more of the creative sort, try arts & craft! This is a great way for adults with disability to express themselves through activities like painting, drawing and sculpting. Arts & craft activities can help people to improve their cognitive functioning, communication skills, socialisation skills, fine motor skills, and much more.
Painting may be especially beneficial for people with disability as it has the potential to help reduce stress by providing an outlet to express emotions. Additionally, painting can also help individuals with limited mobility or dexterity work on their motor skills by using various brushes or tools of different shapes and sizes to manipulate the paint.
Sculpting is another indoor activity that provides an opportunity for people with disability to explore different textures while developing fine motor coordination and strength in their hands. Sculpting activities like clay modelling or paper mache give individuals the chance to express themselves through three-dimensional creations.
Other options to consider trying include:
Clay Sculpting, Pottery & Ceramics
Painting, Drawing and Cartooning
Woodworking
Art Journaling
Paper Crafts (Origami, Collage, Card Making etc.)
Photography
Jewelry & Beadwork
Needlecrafts (Knitting, Crochet, Embroidery)
Candle Making
Board & Card Games
Board games and card games are great indoor activities for adults with disability. They provide an opportunity to socialise, exercise the mind, and have fun. From easy-to-learn classics like Uno, to strategy-based war games such as Risk or Axis & Allies, there's something for everyone!
When looking for board or card games that are suitable for people with disability, consider the abilities of the person playing. For example, some puzzles require fine motor skills while others may require more strength or dexterity.
Look for tactile options such as Braille cards or large print instructions to help those with vision impairments get involved in the game. Some classic board games offer accessible features like talking dice or a ramped-up difficulty level.
Get out those dice, dust off that deck of cards and start having some indoor fun!
Cooking & Baking
Have a sweet tooth? Want to try a new recipe? Consider cooking or baking! Not only do these activities provide a creative outlet, but they can also help adults with disability to gain independence. Cooking and baking can also help individuals to develop cooking skills, which can be beneficial for their overall health and well-being.
You may wish to start with a familiar recipe, or choose something out of your comfort zone (like a new cuisine). You can also practise socialisation skills by cooking with others, or simply enjoy the experience alone. Just don't be afraid to ask for the help of a support worker or family member if you need it!
Indoor Hydroponic Gardening
Indoor gardening is an activity that can bring joy, relaxation, and satisfaction to adults with disability. Plus, you can avoid the hassle of traditional outdoor gardening as hydroponic indoor gardens eliminate the need for a large outdoor area and also require minimal maintenance.
Hydroponics involves growing plants in nutrient-rich water rather than soil, allowing plants to thrive with less effort from the gardener. Hydroponic indoor gardens are easy to customise and control, making them ideal for indoor gardeners who may have limited space or mobility.  Gardening indoors is also a great way to get creative with indoor decorations and bring a bit of nature into your home.
A final benefit of indoor gardening is that it isn't weather dependent, making it possible to bring a bit of nature indoors - reaping the mental health benefits that come with connecting to nature.  So if you're looking for an indoor activity that will bring a sense of joy and accomplishment, indoor hydroponic gardening is worth considering!
Jigsaw puzzles
Jigsaw puzzles made a massive comeback during the COVID-19 lockdown, and for good reason. They can provide adults with disability with lots of mental stimulation, as well as a distraction from the world outside.
If you or a loved one has poor vision or mobility issues, go for a large-piece jigsaw as the pieces will be easier to handle and see. You can also buy specialty jigsaw puzzles that are designed to be easier to hold onto, such as grip-piece puzzles.
Another great option for those with disabilities is 3D jigsaw puzzles. These offer a fun, interactive way to pass the time and can also help build hand-eye coordination and spatial awareness.
Martial Arts
Have you tried martial arts before? Not only can it help build social connections and enhance physical health, but studies have shown that learning martial arts can bring increased confidence, focus, strength and balance to those who practise consistently.
Many martial arts involve low-impact exercises that are easy on the joints and muscles; this makes it an ideal choice for those living with joint pain, mobility issues or other disabilities. Martial arts encourage body awareness, which helps individuals gain a better understanding of their bodies and how they interact with their environment.
Moreover, martial arts provide adults with disability with a safe space where they can work towards a goal at their own pace without fear of judgement or criticism from others. It's an empowering activity that allows participants to challenge themselves mentally and physically while being surrounded by positive encouragement from instructors and classmates alike.
Music & Dancing
Music and dancing can be incredibly enjoyable and fulfilling experiences for people with disability. It is a great way to express yourself, connect with others, and have fun. Music can offer a unique form of communication that transcends language barriers, allowing people with disability to communicate without words. Dancing can be a great form of exercise that can help improve coordination and mobility.
At many dance studios, classes specifically tailored to individuals with disabilities are offered. These classes offer specialised instruction in both music and dance tailored to the individual's abilities. In addition, instructors often use adapted versions of traditional dances or create new routines specially designed for their students' needs. Dance classes are often taught in small groups so that dancers feel comfortable learning at their own pace without feeling overwhelmed by larger crowds or complex choreography.
There are also a number of organisations that provide services and programs for individuals with disability who wish to explore music and dance. These organisations offer music lessons, performance opportunities, adaptive dance classes, workshops, and more. For those interested in exploring the world of music and dance, it is important to seek out resources or specialised instruction that can help them succeed in their endeavours. With the right encouragement from instructors and peers alike, anyone can take part in the joys of learning music and dancing!
Virtual Reality Gaming
Virtual reality gaming is a revolutionary way for people with disability to experience the thrill of interactive gaming. With virtual reality (VR) technology, they can now enter immersive worlds that are tailored to their individual needs. VR allows them to explore a variety of gaming scenarios and enjoy an unprecedented level of control over their in-game environment.
VR games come in many different shapes and sizes, from simple puzzle games to full-fledged action adventures. They can provide hours of entertainment as well as stimulating cognitive challenges for those who have difficulty focusing or have difficulty understanding complex concepts due to their disability. Some VR games even allow users to customise their experience by choosing the difficulty level they wish to play at, thus making it possible for players with different levels of ability or disability to enjoy the game together.
For people with physical disabilities, there's no need for bulky controllers - all movements are tracked via motion sensors inside the headset so you can use your head movements instead! This makes playing much more accessible for wheelchair users as well as those who suffer from conditions such as cerebral palsy or muscular dystrophy which limit movement in other ways.
Yoga or Tai Chi
Yoga and Tai Chi can be great ways for people with disability to get their bodies moving in a gentle, non-weight-bearing way. Both disciplines emphasise controlled breathing and slow, deliberate movements that help build strength, balance, flexibility, and coordination without putting too much strain on the body. Research has shown that adapting these practices to suit a person's individual needs can help reduce pain, increase mobility, and improve quality of life and overall well-being.
No matter what your level of ability is or how you move your body - whether it's through wheelchairs or other adaptive equipment - Yoga and Tai Chi can be modified so you can still enjoy the benefits of these practices. There are many resources available online or in your local community to find classes taught by instructors who specialise in working with people with disability.
Yoga and Tai Chi may seem intimidating at first but don't let this discourage you from trying them out! With practice comes progress - even if it's just taking a few breaths each day as an act of self-care - so don't give up if you don't get it right away! Move at your own pace; take time to listen to your body; make modifications as needed; and ask for help when necessary. There is no wrong way when it comes to taking care of yourself through Yoga or Tai Chi.
Try disability-friendly activities with Like Family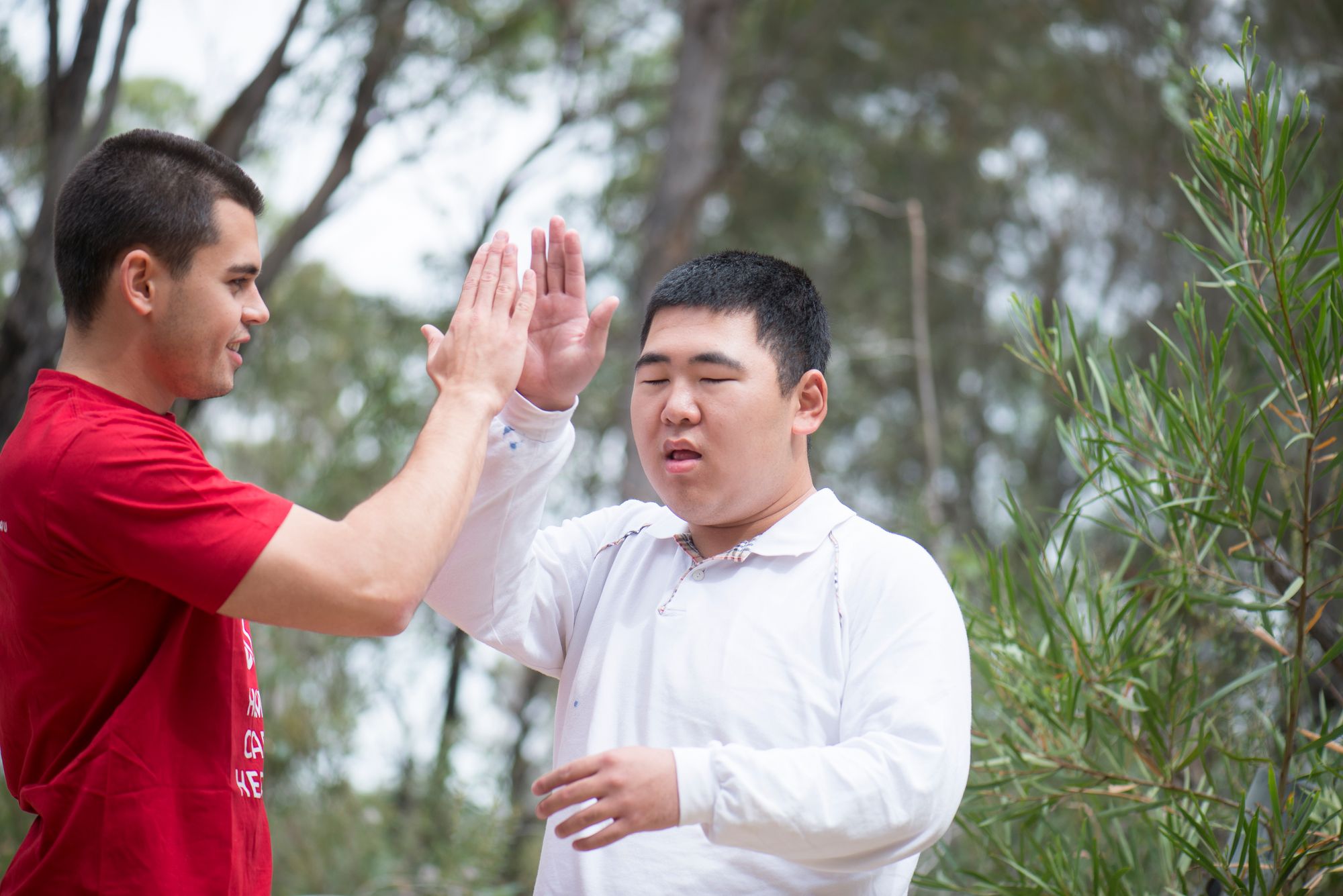 At Like Family, we're on a mission to reduce social isolation and loneliness by connecting locals who care with people in need. Our Social Carers (support workers) can help people with disability to participate in a range of activities, like arts & craft, sport, grocery shopping, and much more.
If you or someone you know is looking for disability or aged care support, take action now and join our community today!