Like Family is an essential service that provides people in need with Social Carers who are passionate about making long-term connections and a positive impact on our members and their families both now and in the future. This is a big responsibility which we take seriously.
What's changing?
Feedback from the NDIS Pricing Change in July
The NDIS Pricing change back in July led to a price increase on weekdays to $57.10, $80.10 on Saturdays and $100.16 on Sundays. The national minimum wage and award wage for the aged and disability industries also increased rates on weekdays and weekends.
Since then, we have spoken with some of our Members, Social Carers and partners about how best to manage this. This has led us to our pricing change, which will take effect from Friday 1st October, 2021. September bookings will not be affected.
Latest Pricing Change from Oct 2021
Based on this, we are making the following changes: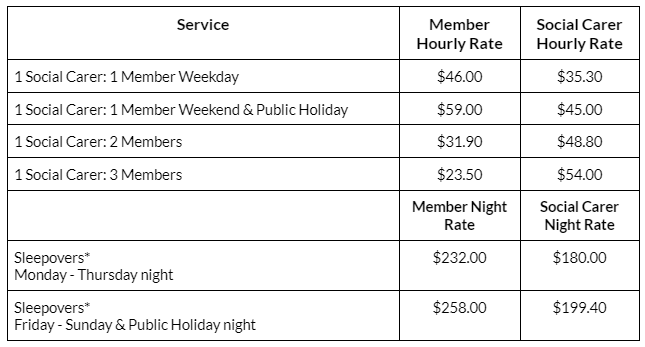 *A sleepover shift is a 10 hour overnight booking, made up of 8 hours of uninterrupted sleep plus an additional 2 hours of active support provided to the Member before or after sleep.
The majority of this price increase is being passed directly to your Social Carers to continue compensating them fairly for their time and commitment. We do pricing reviews every October so there won't be another pricing change for 12 months.
Why did we make these changes?
We've had really positive feedback about our current pricing, especially:
An affordable flat rate that is well below the NDIS and care industry rates, so you can get more time to achieve your goals
Simple and easy flat rates so you don't need to negotiate with carers and can manage your budget with no surprises
To continue fairly compensating our wonderful Social Carers

With this in mind, we made the decision to implement a small price change and introduce a weekend rate. This ensures we continue to attract the best local Social Carers and allow Members to maximise their budgets to achieve their goals.
There are no changes to transportation charges or out of pocket expenses.
We'd love to hear your feedback
We're open to getting feedback from our community and understand that your situation may need a more tailored approach. Please reach out to our Customer Support team at hello@likefamily.com.au if you have a specific issue you need us to address.
Please know this decision was taken with the utmost care so that we can continue to provide the support all our current and future Members need to live life to their full potential.
Thanks for your continued support!
Mat and Jenna, founders of Like Family
Relevant Information: