We started Like Family in 2016 with a mission to connect people in need with locals who care. Since then, we've helped thousands of Australians engage with their communities and solved over 2.5 million moments of social isolation.
None of this would have been possible without the help of our wonderful Social Carers who go above and beyond to make others feel happy and included. They provide a valuable service, and deserve to be paid fairly for it.
Previously, we updated our prices just once a year, in October. But recent increases to industry pricing, paired with the rising cost of living, has led us to introduce new rates a month earlier than usual.
We've taken great care to ensure our disability and aged care services are still affordable for our Members regardless of their funding, whilst ensuring our Social Carers are paid fairly and competitively.
What stays the same?
We're committed to making our pricing as simple and affordable as possible. That means:
Continuing to charge flat hourly rates, so you don't need to negotiate with your Carer
No subscription or credit card fees, so you don't get hit with surprise costs
Keeping our hourly rates well below industry pricing, so you can achieve more of your goals no matter what funding you have
Keeping our 1 hour minimum booking length for face-to-face support, and a minimum 30 minutes for video and phone bookings
Continuing to compensate our Social Carers fairly for their valuable work
What's changing?
Our new pricing will come into effect on 1 September 2022. Bookings that take place up until this date will be charged at the current rates. We're committed to maintaining these prices for 12 months.
Importantly, our new rates are still 20% lower than the NDIS price limit and well below Aged Care pricing.
1-1 Support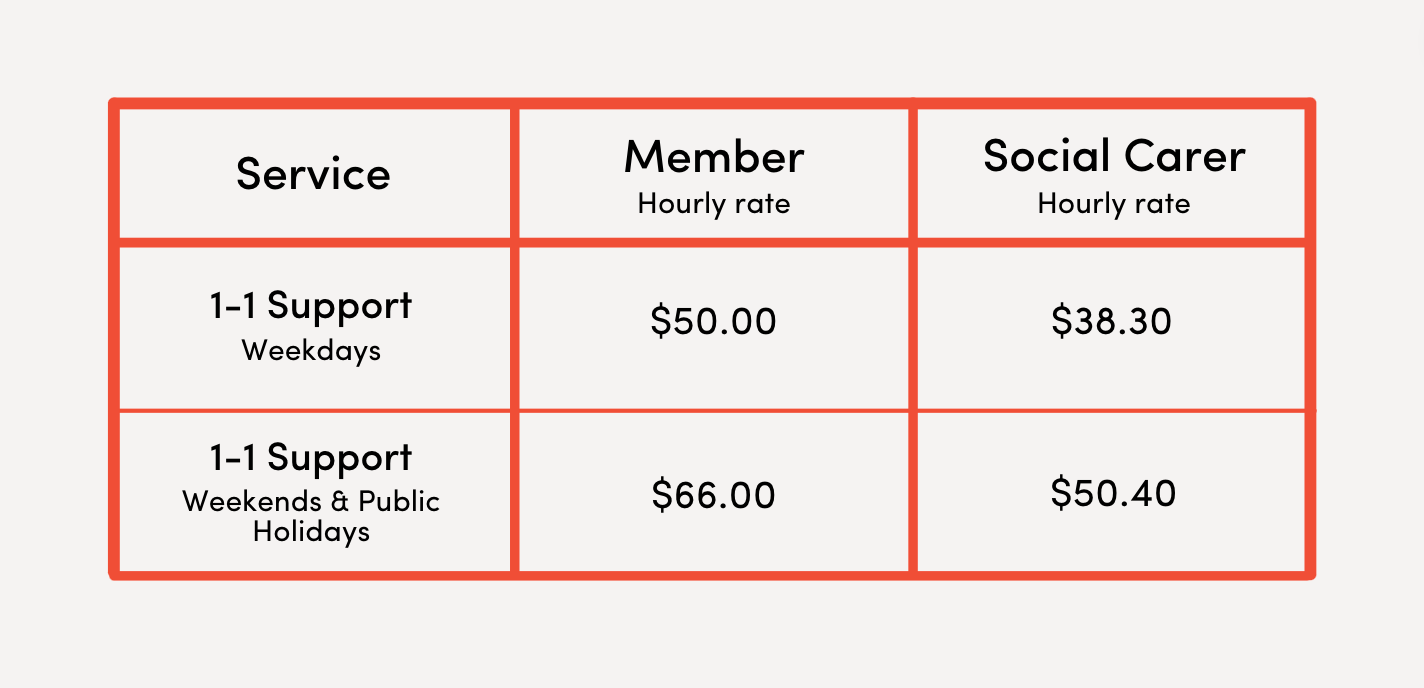 Group Bookings
Group bookings are a great way to connect with other Members at the same time, and get more from your budget with lower rates.
2-on-1 bookings include 2 Members and 1 Social Carer
3-on-1 bookings include 3 Members and 1 Social Carer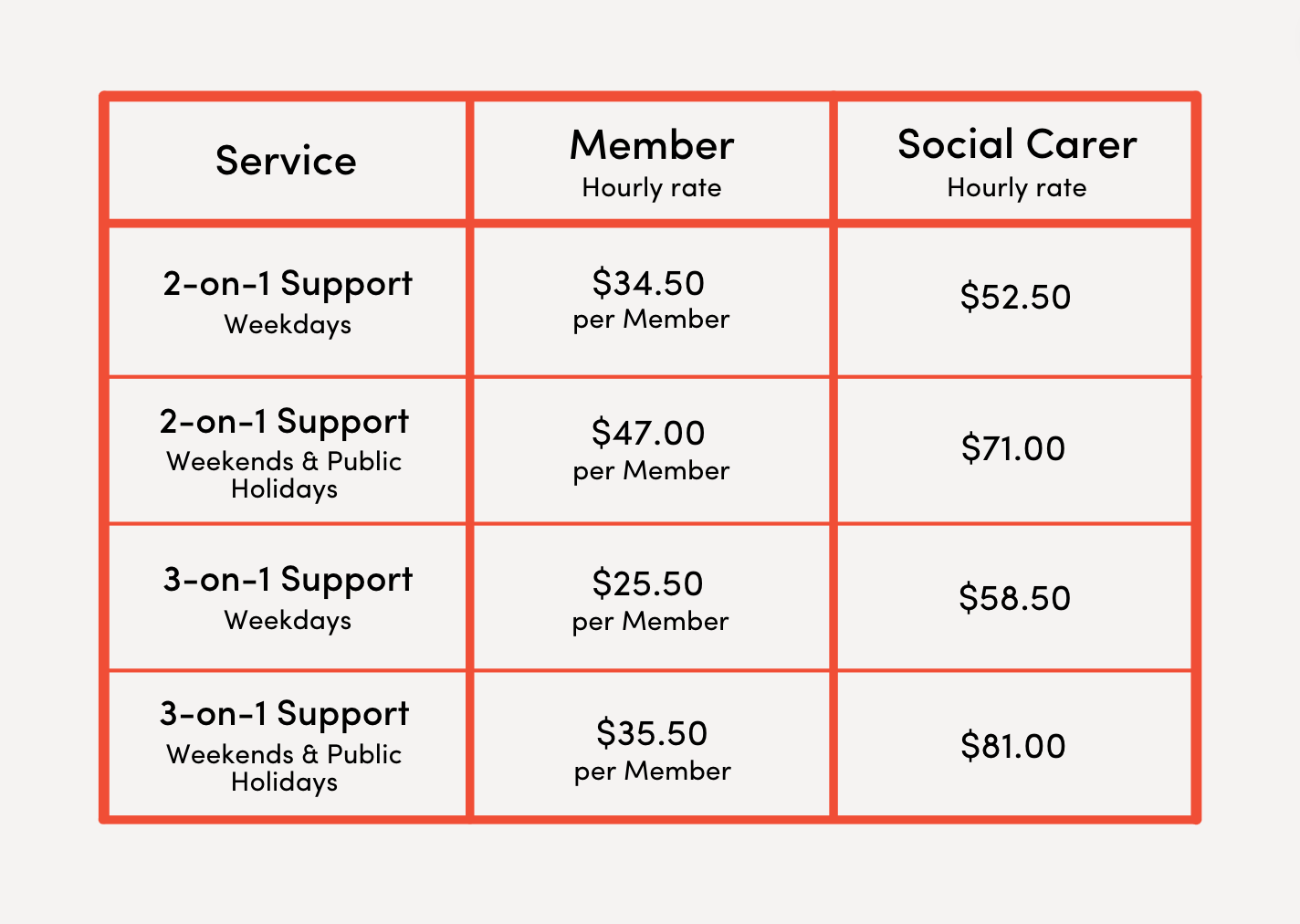 Overnight Care
This is a 10 hour booking, made up of 8 hours uninterrupted sleep plus 2 hours of active care. You can schedule additional support before or after the sleepover at the hourly rate of that day.
From 1st September, Overnight Care will be the same rate every day of the week.

Transport Costs
If a Social Carer uses their own car to take a Member somewhere during a Booking, the cost of transport will be $1.00 per kilometre from 1st September to accommodate rising fuel costs. This matches the NDIS price guide.
You may be able to use your plan's core support funding to cover transport costs. Read more about that here.

We'd love to hear your feedback
We know that pricing updates can have a real impact on people's lives, and want to do our best to ensure everyone can access the social support they need.
If you would like to share feedback about our new pricing, head to our Help Centre to submit an online form or contact our Customer Care team.
Thanks for your continued support!
Mat and Jenna, founders of Like Family