If you enjoyed your free Kingpin voucher, we'd like to offer you a chance to go again before the end of June.
Make a new Booking of 4+ hours to go to Kingpin with a Like Family Social Carer and we'll give you a $50 FREE Kingpin voucher for both of you to enjoy.
There are plenty of activities to try at Kingpin, including ten pin bowling, arcade games, table tennis, and karaoke. Why not try something different this time?
Claim this offer before 30th June. We've only got a few vouchers left, so get yours fast!
How to get your voucher
Make a new 4 hour+ booking to go to Kingpin with your Like Family Social Carer. This booking can take place any time between now and 30th June 2022.
Fill out this form. Once approved, we'll email the voucher to you.
Go to Kingpin with your Carer!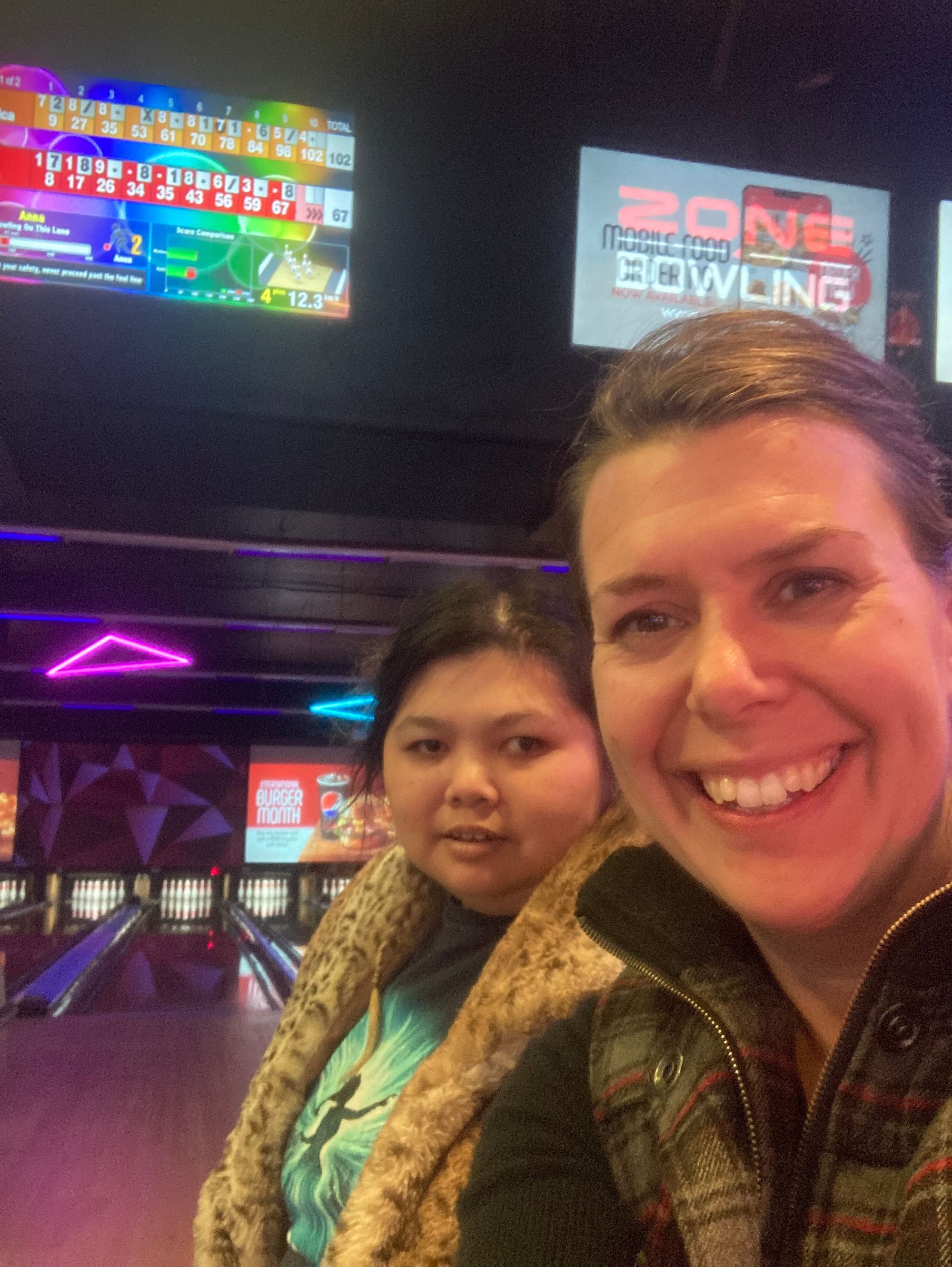 If you have any questions about this offer, just email our Customer Care team at hello@likefamily.com.au or call 1800 545 332.
Promotion Terms & Conditions
1. The Promoter is: Like Family of registered office address: 191-193 Cleveland St Redfern, NSW, 2016, Sydney, Australia.
2. The Booker is: any member or Social Carer from the Like Family community that claims this promotional offer.
3. A Booking is: an agreement  between a Like Family Social Carer and a member to fulfil an activity posted by a member on the Like Family website.
4. Employees of the Promoter, their family members, or anyone else connected to the promotion shall not be eligible to claim the promotion.
5. To enter the promotion the Booker (a Like Family member or customer) needs to make a Booking of a minimum of 4 hours with a Like Family Social Carer.
6. Last date to claim the promotion (free Kingpin voucher) will be 11:59 pm (AEDT) Wednesday 30th June 2022.
7. No responsibility can be accepted for Bookings not received by Like Family for whatever reason.
8. The conditions for receiving the $50 FREE Kingpin Voucher are as follows:
A Booking of a minimum of four hours must be made between a Like Family Social Care and member before 30th June 2022. 2-on-1 or 3-on-1 bookings will be accepted, in this case, the value of the free voucher will remain the same.
A form must be filled out by the member, Social Carer, or coordinator requesting the free voucher after creating a 4h+ Booking on the Like Family website filling out all the relevant details.
The Booker must live in NSW, QLD or VIC.
The Booker must have an account with Like Family to be able to claim the promotion. If the Booker does not have an account they must proceed to create one or request help from the Customer Service team at Like Family.
9. The Promoter reserves the right to cancel or amend these terms and conditions without notice in the event of a catastrophe, war, civil or military disturbance, act of God or any actual or anticipated breach of any applicable law or regulation or any other event outside of the Promoter's control. Any changes to the promotion will be notified to entrants as soon as possible by the Promoter.
10. No cash alternative to the tickets will be offered. The tickets are not transferable.
11. By making a Booking under this promotion, the Booker is indicating his/her acceptance and agreement to be bound by these terms and conditions.
12. These terms and conditions will be governed by Australian law and any disputes will be subject to the exclusive jurisdiction of the courts of Australia.
13. This promotion is in no way sponsored, endorsed or administered by, or associated with, Kingpin, Facebook, Twitter or any other Social Network. You are providing your information to the Promoter and not to any other party.
14. Units available until sold out.
15. Promotion can only be claimed once per member and Social Carer pair. If a member or Social Carer desires to claim this promotion again, they must do so with a different member/Social Carer.
16. Promotion redeemable at all Kingpin, Timezone, and Zone locations in Australia.
17. The FREE Kingpin Vouchers are valid from up to 3 years from the purchase date.
18. Accessibility is subject to the Kingpin, Timezone, or Zone venue you choose to attend.
19. By agreeing to these terms and conditions you are also agreeing to be part of any marketing material that Like Family chooses to promote on their website or social media accounts.
19. By choosing to send Like Family a photo or video in relation to this promotion, you agree to allow Like Family to use this as part of marketing or promotional material on the Like Family website or social media.